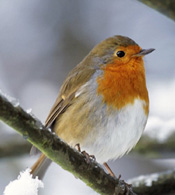 Glossop Garden Centre are stockists of CJ Wildlife birdfood, Johnston & Jeff and the RSPB
We have a wide range of bird feeders for a practical and decorative feature in your garden. By feeding wildbirds we can greatly increase their survival rate in harsher conditions and enhance their success during the breeding season, as well as giving you immense pleasure.
We've got a great choice of seeds, peanuts and suet & fat ball treats to encourage and support our feathered friends. And of course we also offer a good selection of bird tables, bird baths and nest boxes.





All our CJ Wildlife wooden bird tables and bird feeders are made from FSC wood and are treated to ensure long life. They are designed by ornithologists and loved by birds!
We offer a range of bird houses and nest boxes aimed at specific species. CJ Wildlife also offer a range of bird supplies capable of attracting a great variety of wildbirds to your garden.



Buy Online